Playing Cards
Classic Playing cards.
Regular cards and Bicycle Cards in stock.

Jumbo Playing Cards
Jumbo cards - great for children.
Snap Cards
Suitable for children 4+ years.

Snap games in stock - Pirates, Dinosaurs, Farmyard & Jungle.
The everlasting appeal of the game of Snap comes combined with the classic game of Pairs!
The eye-catching tin that the card deck is housed in makes it the perfect travel game for holidays.

Classic Card Games
Suitable for ages 4 years +
Selection includes: Go Fish, Crazy Eights and Old Maid, Animal Rummy and Snap

Uno cards
Suitable for ages 7 years +
Easy to pick up - impossible to put down.

Quirkle Rummy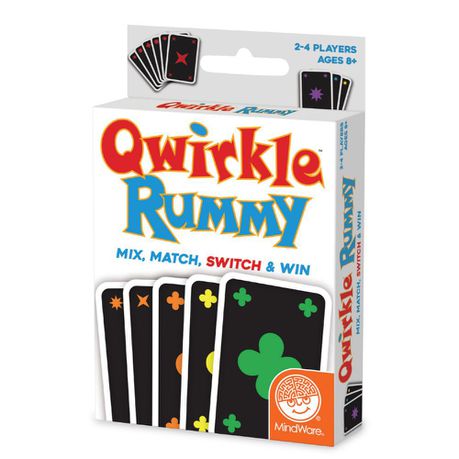 Suitable for ages 8 years +
Qwirkle Rummy is the fun family card game where players create sets by matching shapes or colors.
Any player can add to any set or switch cards in the sets, but the real pay off happens when a set of all 6 is completed and a Qwirkle is scored.
The player with the most Qwirkles after the last card is drawn wins the game.
Contains 108 playing cards and rules.

Top Trumps Card Game
Suitable for ages 7 years +
Top Trumps is a card game with many different topics - come and browse the 30+ topics that we have. Each card contains a list of numerical data, and the aim of the game is to compare these values to try to trump and win an opponent's card.

Family Charades Cards
Suitable for ages 8 years +
Family Charades card game is a great way for the whole family to act out no matter where you're at!
This perfect travel sized card game is sure to be the cure for antsy bodies!
Packed with over 300 charades, of varying difficulty, your whole family is sure to be entertained!

African Wild Card Game
Suitable for ages 8 years +
There are 50 AFRICAN Wild Animal cards per pack.
The AFRICAN Wild Animal card game can be played by two or more players.
The object of the game is for a player to win all the cards from the other players.
The player selects a category and calls out the figure indicated next to the category.
The card with the highest score between the players wins the round and collects all the cards from the opposition.

Pickles to Penguins Travel Game
Suitable for ages 8 years +
This is a quick-thinking picture-linking party game made for competitive people.
Get rid of your cards the quickest by figuring out what your cards and the cards in play have in common.

Quiddler Card Game
Quiddler, winner of over 20 Best Game Awards, is easy to learn and fun for everyone!
The goal is to arrange all the cards in your hand into one or more words.
The number of cards dealt increases each round – starting with three cards and ending with 10 cards.
High score wins, so use your high point letters and Quiddler's unique double letter cards — but don't get caught with them in your hand!

Brain Bending Conundrums
Suitable for 12 years+ and can be for single player or group playing.
A workout for the brain. This mind teaser card game includes riddles, puzzles, and mysteries to be solved.
Skills used to solve these brain teasers include deductive reasoning, critical thinking, and outside of the box analyzing.