Douglas Soft Book Asst designs
Suitable for 0m+
There's so much fun to be had with our lovable Lamb character!
Play the day away with Sleepy Little Lamb and at the end of the day, share the wonder of the night sky by counting stars before going to sleep.
This engaging plush activity book is designed for the littlest book lovers and is crafted with soft, cuddly materials.
Endearing appliqué designs can be found on the front and back. Inside are interactive flaps that can be lifted to follow along with the story.
Additional features include an unbreakable mirror, a rattle, and a squeaker to make story time even more exciting!

Winfun Grow with me Melody Gym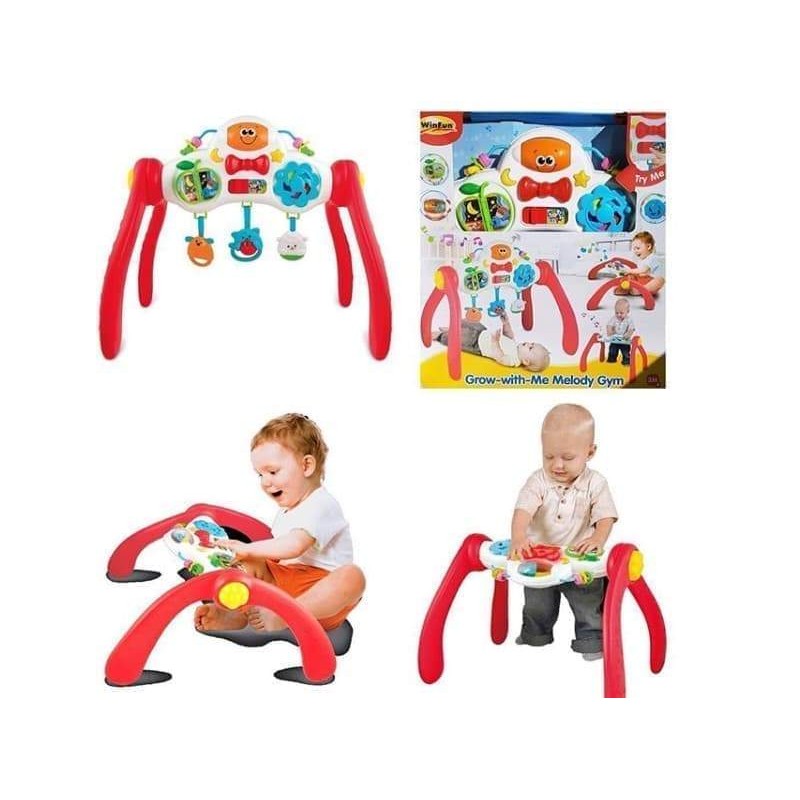 Suitable for 3m+
Grow with me baby gym designed for three stages of development - laying, sitting, and standing.
Deluxe activity playtime center with repositionable hanging toys - rattle and teether toys
Colorful spinning gear and flip page apple play melodies with light-up bow
Press the star and the moon for short melodies
Slide reveal window with zany sound effects

Winfun Activity Walker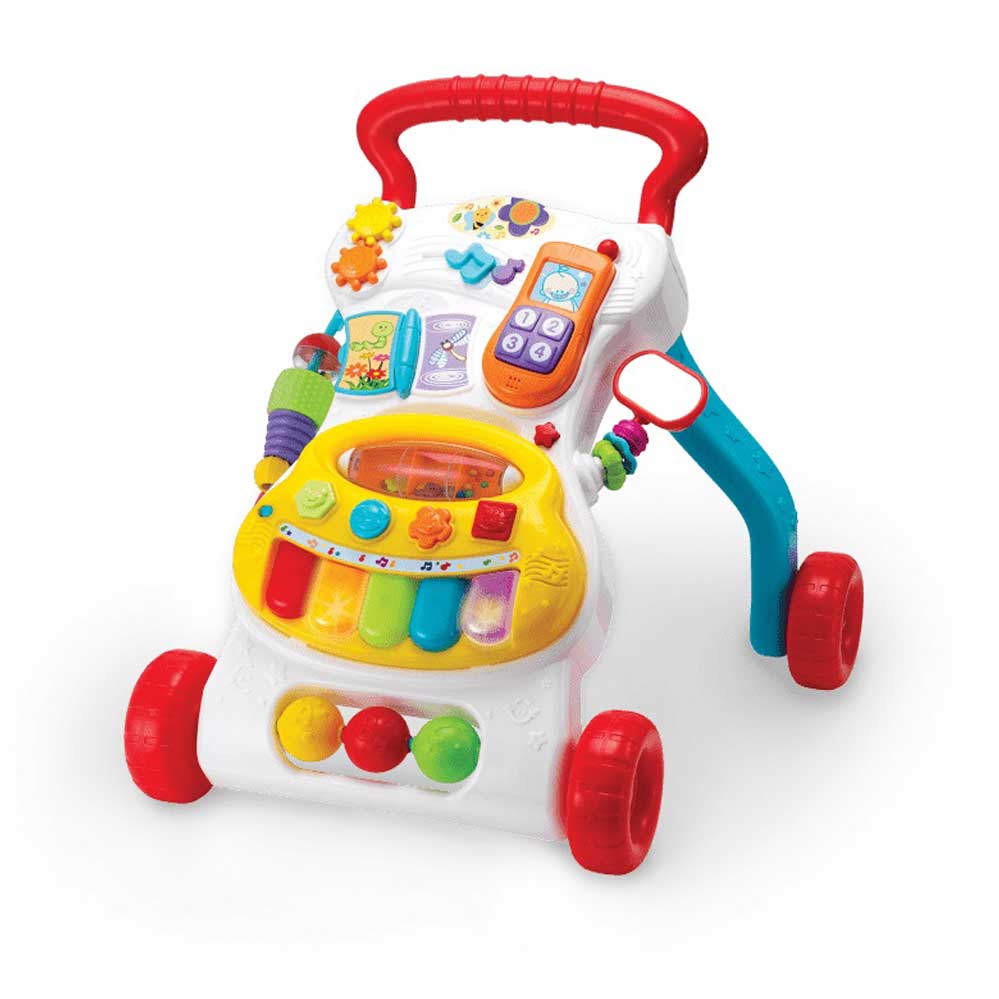 Suitable for 6 months+
Learning walker with a detachable cell phone
Detachable 5 note piano keyboard with flashing lights
Turning gears, sliding melody button, flap book, reflective mirror
Rattle spinners and spinning balls
Animal sounds buttons
Fun melodies and sound effects
Easy grasp handle helps baby stand and balance
Suitable for children 12m+

PlayGo Rainmaker
Suitable for 6 months +
Easy to grip rattle
Beads drop from one side to another when toy is turned over with a soothing sound
Helps babies develop eye hand coordination, sensory, fine motor skills, auditory and visual development

Vtech Sing Along Spinning Wheel
Suitable for 6 - 24 months
Spin and discover animals on the sing-along spinning wheel!
Baby will have so much fun pressing the Little Friendlies animals learning their names, sounds and hearing fun animal songs!
The animals also introduce colours and objects to your little one.
When the melodies play spin the wheel to see the star shaped lights flash and hear the fun sound effects play.
Spinning the wheel introduces the development of fine motor skill movement whilst the flashing lights provide sensory stimulation.
Features 10 happy melodies and 5 sing-along songs. English speaking voice promotes recognition and accelerates learning.

Fisher Price Laugh & Learn Puppy Remote
Suitable for ages 6 - 36 months
Loaded with buttons, songs and learning fun, this interactive laugh and learn toy remote control will really click with baby.
For starters, it looks like a TV remote to make the pretend play more real.
- When little ones press the buttons and the screen lights up
- They're rewarded with songs, phrases that teach numbers, ABCs, opposites, colours and more
- A great way to give fine motor skills a push in the right direction

Melissa & Doug Animal Stacking Cars
Suitable for 9m+
Stack, roll, and race these three wooden cars with friendly animal drivers.
The four-inch long, brightly coloured cars with art on both sides feature a clever contour that allows cars to stack in any combination.
Easy-roll wheels are simple for babies and toddlers to spin.
They will delight in grasping, stacking, and rolling while developing gross motor skills and hand-eye coordination through imaginative play.
First Play toys feature bright colours, bold patterns, and whimsical designs that boost skills while sparking imagination and wonder-right from the start.

Melissa & Doug Zig Zag Safari
Suitable for 12m+
Get the fun rolling with this sturdy wooden tower and four pieces that spin down the zig-zag track.
Babies and toddlers will delight in matching, stacking, and rolling the smooth, solid wood pieces with friendly safari animal faces that store right in the tower when it's turned sideways.
First Play toys feature bright colours, bold patterns, and whimsical designs that boost skills while sparking imagination and wonder-right from the start.

Giraffe Stacking Tower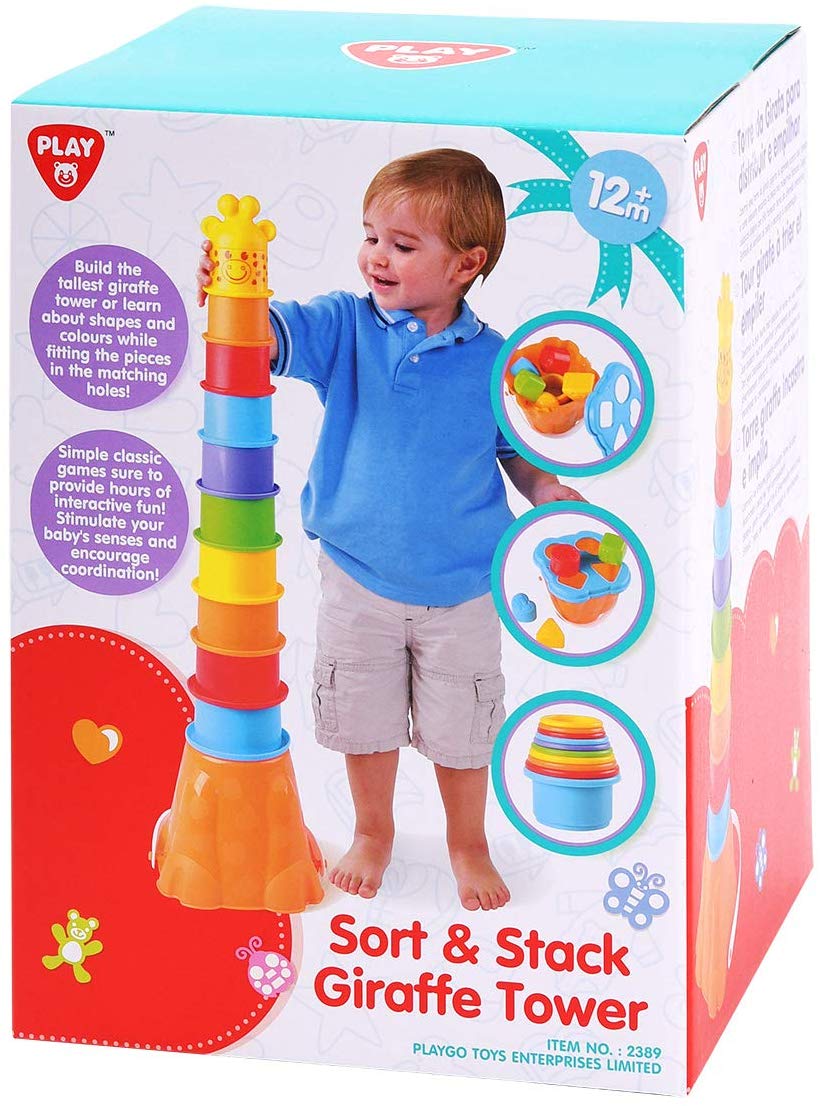 Suitable for 12m+
Ideal toys for small hands and hours of fun sorting and stacking.
10 stacking cups and 5 piece sorting bucket

Busy Ball Tower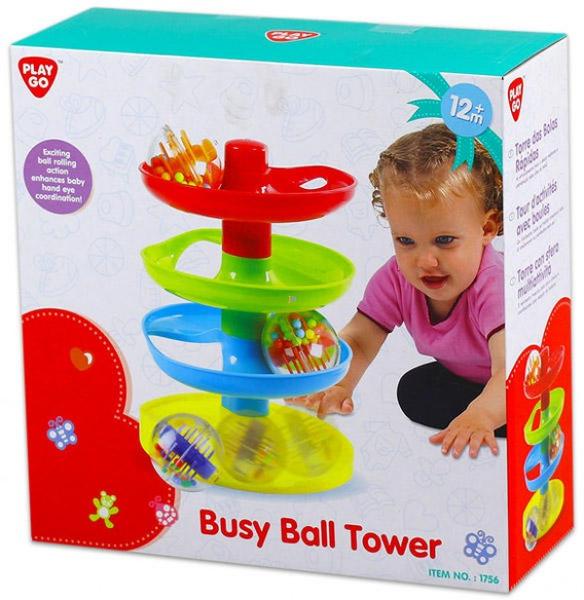 Suitable for children ages 12 months +
This 4-tier, multi-colored ball ramp includes three spinning activity balls, the perfect kids toys.
Tower easily breaks down for on-the-go activities and can be built in a snap.
Enhances fine motor skills, problem solving skills, and cause and effect learning, excellent educational baby toys.
Acrylic balls contain colorful beads that make fun noises when rolled.

My First car Park
Suitable for children ages 12 months +
Easy to assemble; just click one colour spin on top of the other and get ready for the spinning.
Your little one will just love playing with cars.

Bburago Touch & Go Ferrari
Suitable for children ages 12 months +
Bburago Junior Ferrari Touch & Go is an amazing gift for your little one!
Touch-N-Go features 1 button to activate engine sounds and propel the car forward.

Tooky Animal Shape Sorter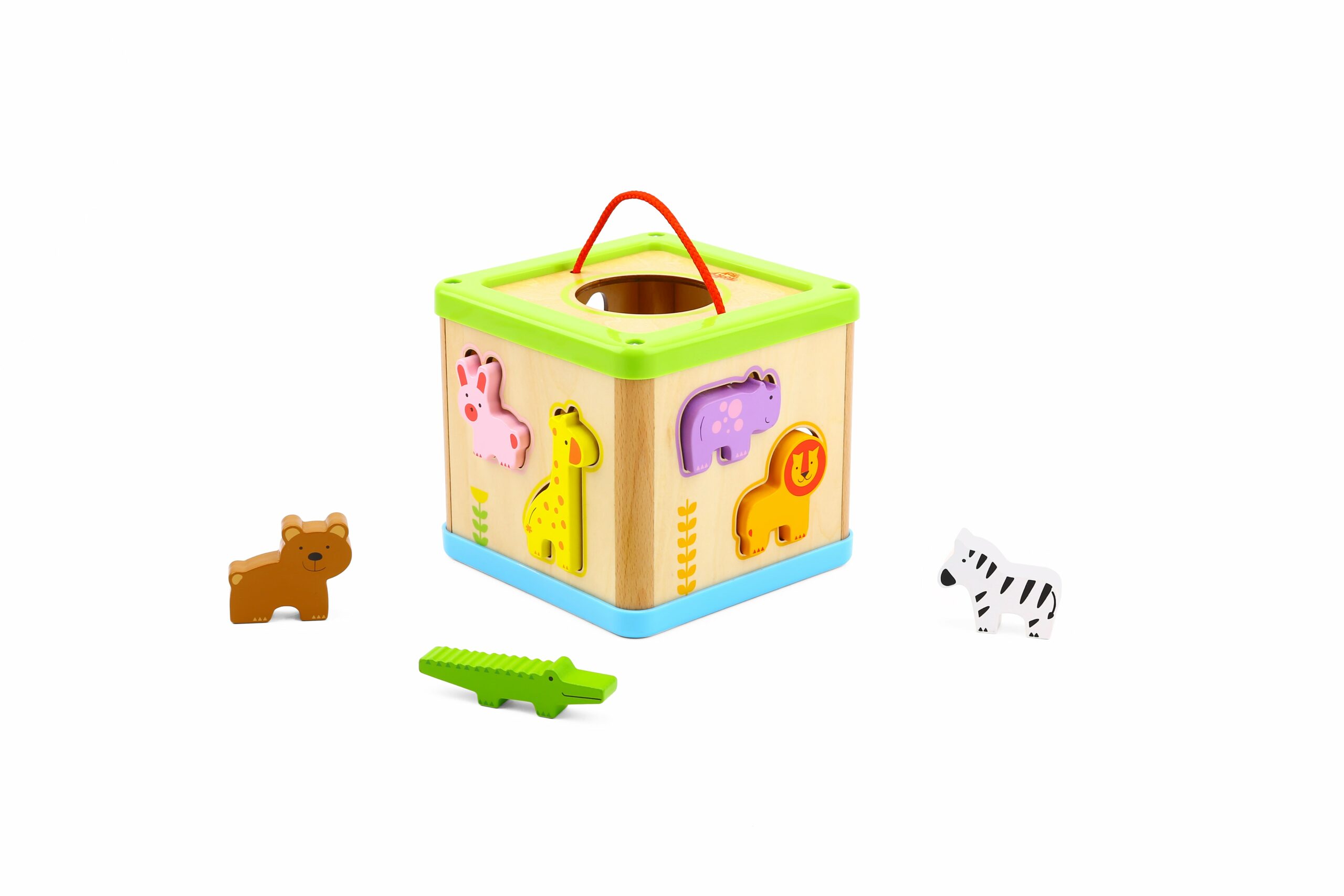 Suitable for 12m+ months.
This brightly coloured cube consists of 9 animals and an easily portable box
All activities enhance motor and organisational skills; shape and colour identification and so much more!

Playmobil Take Along Farm
Suitable for 18m+ months.
The Playmobil My Take Along Farm opens up to reveal a complete farmhouse with rooms on 2 floors.
There is a storage space in the roof with shape sorters for the food stocks and furniture for the other rooms.
Includes a Playmobil 123 farmer, 5 animals and lots of accessories. Play, store and carry along!

Vtech Pull & Pop Aeroplane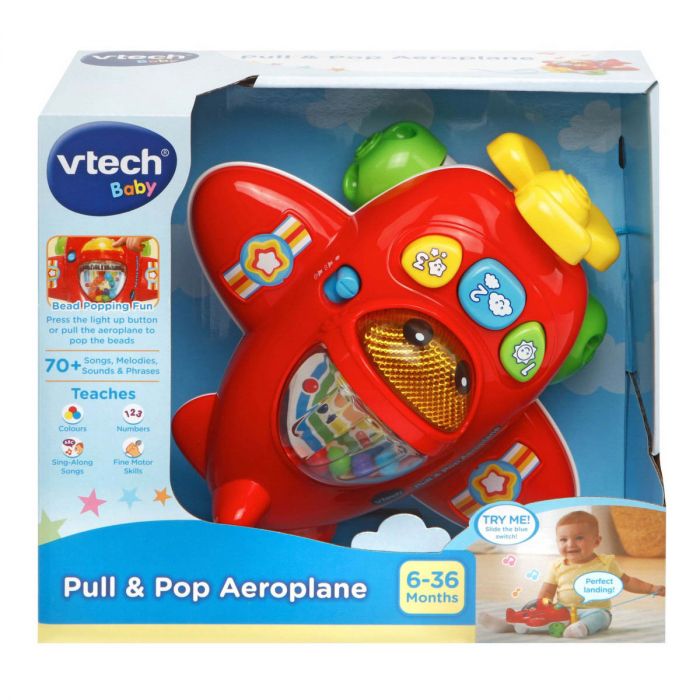 Suitable for 6 - 36 months+
Fasten your seat belt. We're ready for an adventure! 3-2-1, away we go!
Take off into learning with the VTech Pull & Pop Aeroplane!
Press the chunky, light up cockpit window button to pop the beads and trigger fun phrases and sound effects.
3 chunky learning buttons teach things you see in the sky. Turn the propeller for fun mechanical sounds.
Pull or push the aeroplane to trigger the motion sensor to hear interactive sound effects and watch the balls pop around!
Teaches objects, weather concepts and numbers. Includes 4 sing-along songs and 15 melodies.
Encourages language development and motor skills

My Pal Scout / Violet
Suitable for 6 - 36 months.
Personalise with your child's name.
40+ songs for learning & lullabies.

K's Kids Popbo Blocks Chain a Word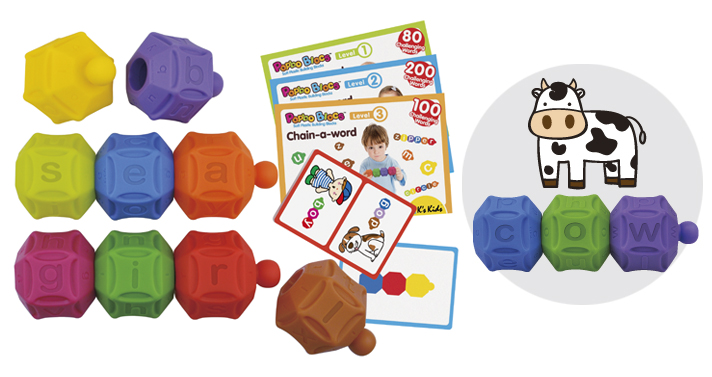 Suitable for 2 years +

Set of 9 soft letter blocks, brightly coloured and easy to hold and squeeze.
Blocks are chained together to spell different words - teaches 380 English words.
This product helps develop senses, fine and gross motor skills, logic, linguistics, emotions, communication and self-esteem.

Baby JoJo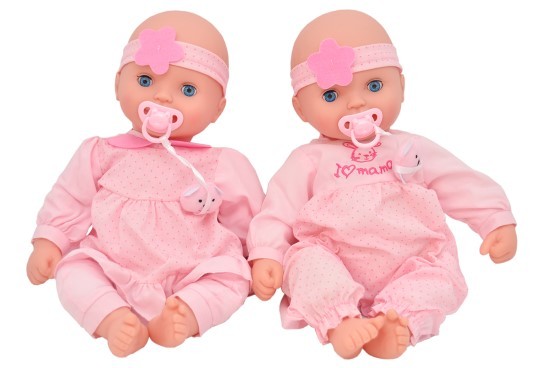 Suitable for 2 years +
Soft body doll with beans in bottom to aid with sitting. Only head, hands and feet are hard.
Viga Wooden Trolley with Blocks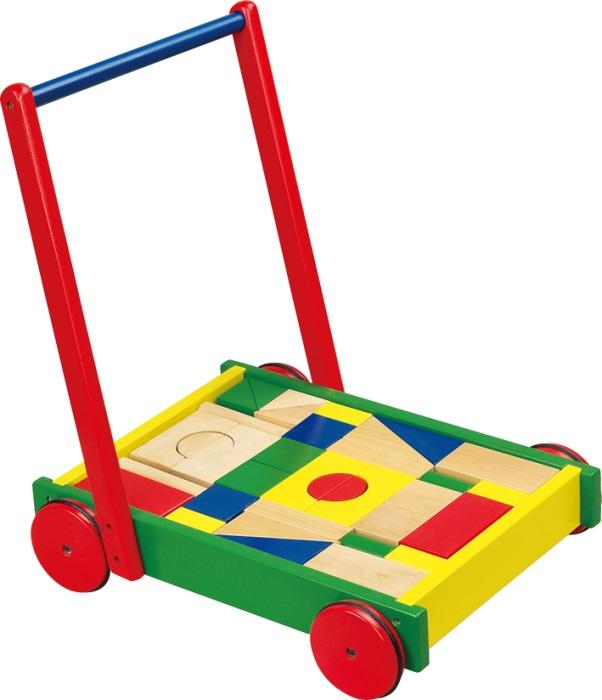 Suitable for 12 months +
This classic, wood, push-along baby walker contains 36 pcs wooden blocks of solid colours and different shapes.
Secure non-slip rubber ring on the wheel offers extra confidence.

Viga Pull along Worm
Suitable for 18 months +
Cute pull along wooden caterpillar.
Bobs up and down as it moves along.
Has a 65cm pull along cord.

Flip & Go Racer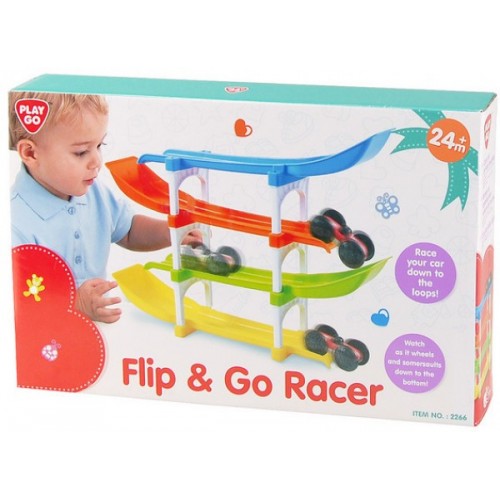 Suitable for 2 years +
Easy-To-Use for younger kids who love cars!
Kids love the unique flipping action of the switchback track!
Wide track and big wheels make it simple for kids to be in control of the racing fun!