Tiny Love Musical Mobile
Colorful and light mobile that lets you take the fun along Adorable toy that gives baby a sense of familiarity while on-the-go. Its soothing tunes and slow motion help relax baby and encourage EQ. Designated connector for each baby gear product: play yards, travel cots, infant carriers, strollers and bassinets. 30 minutes of continuous music and 5 different tunes.
Bright Starts Safari mobile
The Bright Starts Soothing Safari 2-in-1 Mobile features over 6 calming melodies and 4 fun characters to captivate baby.
The Perfect Fit Universal Attachment easily and securely attaches to most crib rails.
The convenient 2-in-1 detachable base can be used alone as a musical crib toy that creates a soothing environment for baby to drift off to sleep.
Entertains baby with fun sounds and melodies.
Soothing lights provide a dreamy atmosphere.

Woodland Take-Along Arch
Beautifully designed and easy-to-carry, this cute stroller toy will amuse and engage your baby.
With clasps that fit into most strollers and carriers and four play activities, this portable play arch is perfect for keeping your little one entertained in their stroller, pram or car seat.
Baby Einstein Kickin Tunes Gym
4 modes: Laying, Sitting, Tummy Time & Take-Along
70+ sounds & activities and 25+ minutes of music
Includes 7 detachable toys, including a Magic Touch piano, and 1 prop pillow
Introduces phrases in English, Spanish and French
Batteries required: 3x AA batteries.

BS Monkey Musical Activity Gym
20+ Minutes of monkey business melodies for baby to kick and play while encouraging auditory stimulation.
Suite of toys that stimulate baby's senses and can be taken on-the-go for travel play
Features:
- Baby safe mirror for self discovery
- Removable toy bar when only the mat is needed
- Machine Washable

Winfun Jungle Playmat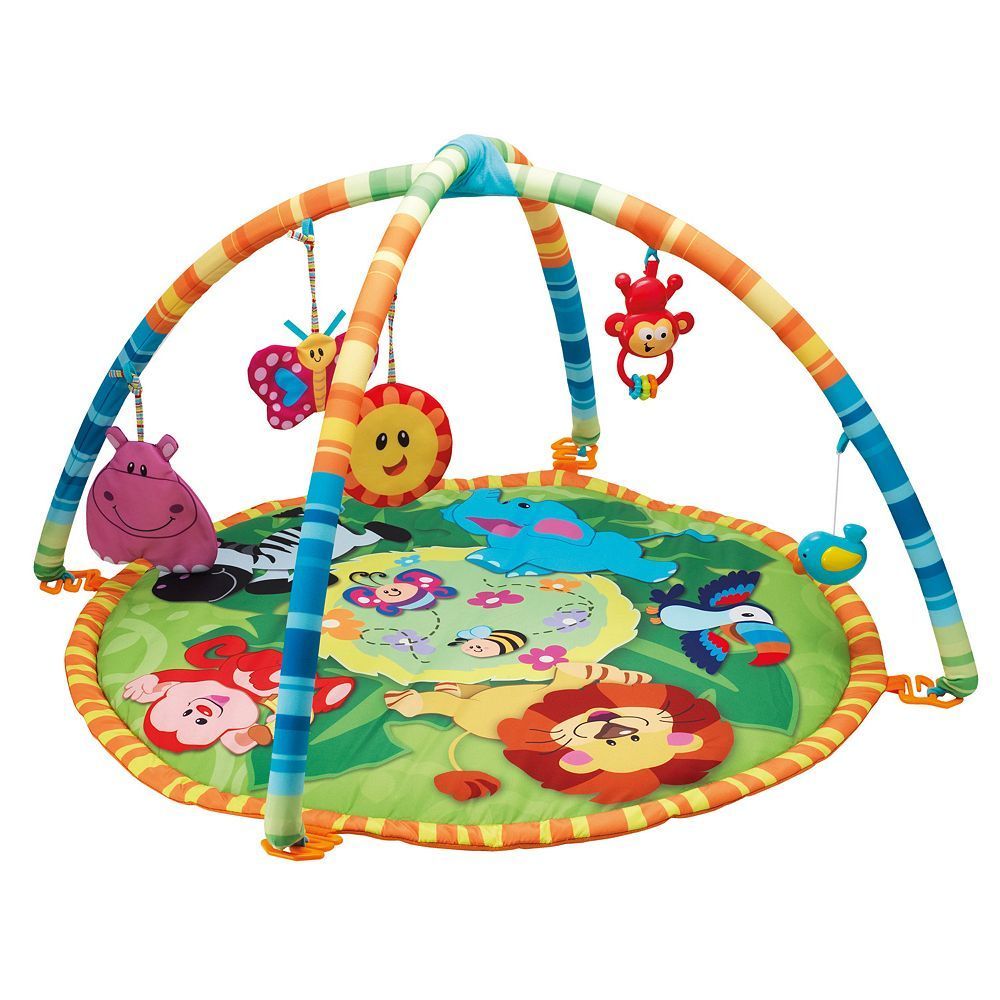 Jungle Pals Play mat. Colourful activity with lots of jungle friends.
Bay can play on its back, on its tummy or remove bands for use as a play mat.
Multiple textures encourage exploration .