Bath Time Stacking Cups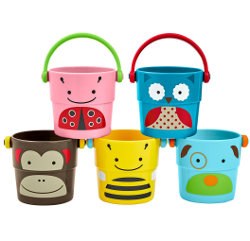 Suitable for children from 6 months.
A wonderful toy for little ones exploring how water moves, looks and feels.
These Stack & Pour Cups are ideal for bath-time play with baby.
With sweet animals on each, they are stackable, sturdy and fun.
Each cups has different action, with some having holes that create a shower effect when water is added.
An inventive toys for enthralling play.

Splash n Play Boat
Suitable for ages 12m+.
A great boat for the bath - no batteries required.
Simply turn the life jacket and the boat propeller with turn and boat moves !!

Tiger Tribe Catch a Fish
Suitable for children 1 year +.


This brightly coloured bath toy is designed for fun in the tub. Use the big mouth shark net to scoop and catch as many of the fish as you can.
Count the fish in the net, how many green ones? How many blue? Don't let the little pink fishy get away!
While absorbed in play, kids are encouraged to improve fine motor skills and hand-eye coordination as they practice their grip on the toddler-friendly net handle and pull it through the water, keeping all eyes keenly on the school of fish.
Made from EVA foam, the floating fish are also great to stick to the side of the bath or surrounding tiles when wet. And the best bit?
You can use the shark net to scoop up all your other toys when bath time is finished! Pack up just got a whole lot easier and FUN!

Bath stickers City
Suitable for children from 2 years.
Chubby foam shapes to create your story on the side of the bath.
Available in Sea, Dinosaurs and Vehicles.

Tiger Tribe Waterworks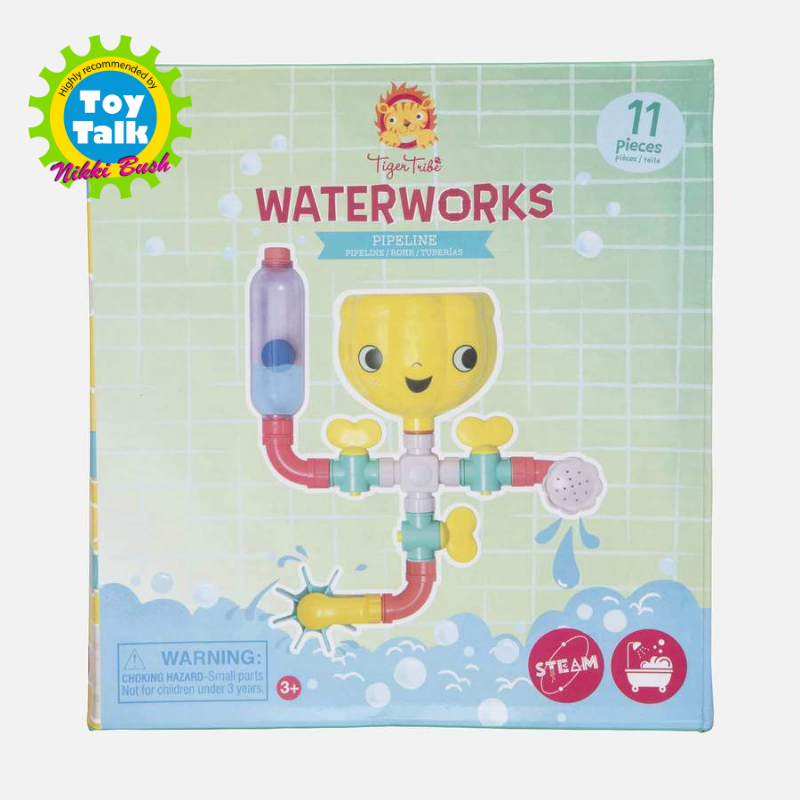 Suitable for 3 years +

Pour water through the top of the head of this multi-layered toy for an early childhood lesson in water exploration.
Watch as the water flows through the pipes, turn the valves on and off to stop and start the flow, swap the 11 key pieces around and change their direction, where will the water flow next?
Watch the ball rise and fall with changing water levels.
Who knew cause and effect could be so much fun?

Tiger Tribe Water Slide
Suitable from 3 years.

Let your little ones soak up some quality time in the tub with the brand new Tiger Tribe Waterslide – Marble Run.
This wet and wild marble run is all about interactive water explorations.
From vertical drops, spinning cogs to vortex bends, Waterslide – Marble Run uses expressive little marbles with water to demonstrate basic physics concepts like
momentum, gravity and speed in a fun and engaging way.

Bath sprudels 6-pack
Cute sponge toy inside sprudel.
Safe & non toxic.
Will not stain bath or child.

Bath Sprudels
Great fun for bath time. Colours water and has a cute sponge inside. Safe and non-toxic.
Bath Beans
Drop these Magical Beans in your bath and watch as a sponge appears. Available in Beach, Safari Animals, South African Beans, Toys for Boys & Fairies.
Bath Squirters - Vehicles
Suitable for children from 6 months +
Great for playtime in the bath.
Also available in Animals and Ducks.
Bath Crayons
Suitable for children 6 months +
Perfect size for little hands to grasp
Encourages creativity and colour recognition.
Encourage imaginative play in the bath.
Develop hand-eye coordination.

Bath Buddies - Pull string
Suitable for children 18 months +
Great fun at bath time.