Playing Cards
Classic Playing cards.
Regular cards and Bicycle Cards in stock.

Jumbo Playing Cards
Jumbo cards - great for children.
Snap Cards
Suitable for children 4+ years.

Snap games in stock - Pirates, Dinosaurs, Farmyard & Jungle.
The everlasting appeal of the game of Snap comes combined with the classic game of Pairs!
The eye-catching tin that the card deck is housed in makes it the perfect travel game for holidays.

Classic Card Games
Suitable for ages 4 years +
Selection includes: Go Fish, Crazy Eights and Old Maid, Animal Rummy and Snap

Uno cards
Suitable for ages 7 years +
Easy to pick up - impossible to put down.

Uno Flip cards
Suitable for ages 7 years +
Jump into a new UNO® experience with the UNO® FLIP!
Rediscover the matching game you know with a double-sided deck that gives classic game play an exciting twist.
Use the special Flip card to flip the deck and reveal an entirely new set of numbers, colors and Action cards on the opposite side!

Monopoly Deal Cards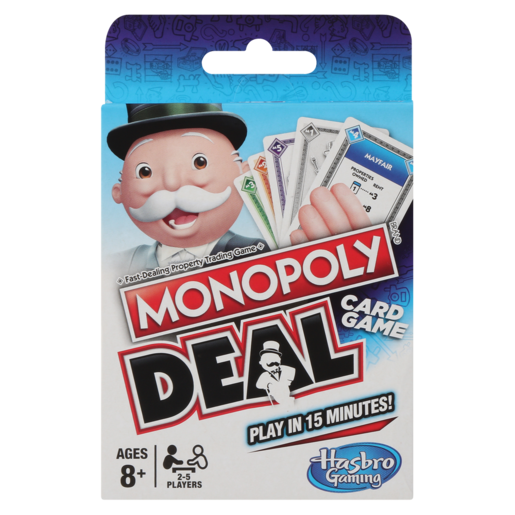 Suitable for ages 8 years +
The Monopoly Brand Deal Card Game is all the fun of the Monopoly game in a quick-playing card game. It comes with 110 cards including Property Cards, Rent Cards, House and Hotel Cards, and Wild Property Cards. Action Cards let players do things such as charge rent and make tricky deals.
Family Charades Cards
Suitable for ages 8 years +
Family Charades card game is a great way for the whole family to act out no matter where you're at!
This perfect travel sized card game is sure to be the cure for antsy bodies!
Packed with over 300 charades, of varying difficulty, your whole family is sure to be entertained!

Top Trumps Card Game
Suitable for ages 7 years +
Top Trumps is a card game with many different topics - come and browse the 30+ topics that we have. Each card contains a list of numerical data, and the aim of the game is to compare these values to try to trump and win an opponent's card.

African Wild Card Game
Suitable for ages 8 years +
There are 50 AFRICAN Wild Animal cards per pack.
The AFRICAN Wild Animal card game can be played by two or more players.
The object of the game is for a player to win all the cards from the other players.
The player selects a category and calls out the figure indicated next to the category.
The card with the highest score between the players wins the round and collects all the cards from the opposition.